B Alive Pro
THE ANTIMICROBIAL THAT ELIMINATES 99.99% OF BACTERIA, FUNGI AND VIRUSES IN A NATURAL WAY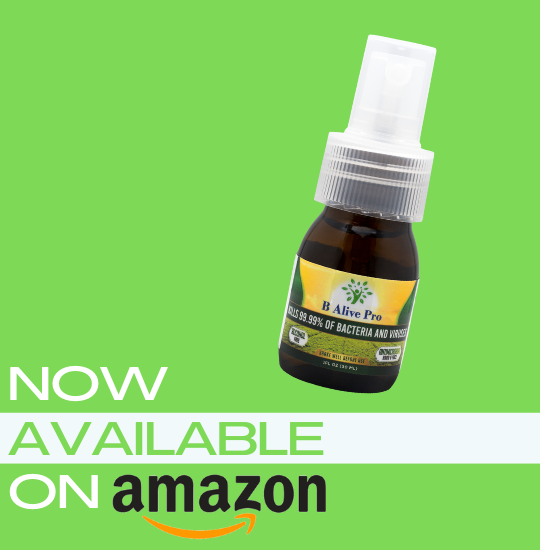 kills 99.99% of Bacteria and Viruses
Eliminates bacteria, fungi and viruses, you can use it directly in the mouth, it does no harm, as it is totally natural. 
Always Protected
Eliminates bacteria that you may pick up during the course of the day, use it to disinfect your hands and the surfaces you come in contact with.
Helps to Heal in a Faster and More Natural Way
B Alive Pro can treat skin wounds in a more natural way, its formula regenerates skin cells in a faster and more natural way.
What is B Alive Pro?
B Alive Pro was created and designed to protect your whole family, with its 100% natural ingredients, be sure that you have in your hands a product that will help you to eliminate 99.99% of bacteria, fungi and viruses.
I worry about swallowing throat spray because of the chemicals it contains, so I searched on the internet for a natural product that I could use and found biolifepro and bought it. To my surprise it worked better than other it does not contain alcohol, and it's not toxic I don't have to worry about swallowing it.
I bought B Alive Pro for both of my kids to use as prevention for the common cold and I know that they are safe because it is 100% non toxic.
Engineered with the Latest Advancements in Bio Technology
B Alive Pro is an antimicrobial agent engineered with the latest advancements in bio technology.
Disclaimer
B Alive Pro is not
 

intended to diagnose, treat, cure, or prevent any disease.
HOW DO I USE BALIVEPRO?
You simply Spray, Swish, Protect as often as necessary . It's that simple!
DOES THIS WORK ON ANY KIND OF WOUNDS AND SCRATCHES?
IS IT SAFE TO USE EVERYDAY?
BalivePro is safe to use daily. When used as directed, you will see good performance as you continue spraying and being constant will be the key to successfully prevent any bacteria,germs and virus . Bacterias and viruses are caused by bad hygiene and spraying BalivePro constantly will kill all pathogens.
DOES BALIVEPRO REALLY WORK?
Yes! BALIVEPRO uses Gras ingredients approved by the FDA are catalog as a new technology. BalivePro also uses an activation formula that gives super boost result . ALWAYS REMEMBER TO SHAKE WELL !
CAN I USE IT WHILE PREGNANT OR BREASTFEEDING?
There is no evidence that Balivepro is harmful to use when pregnant or nursing. However, we recommend consulting with your healthcare professional before use.
WHAT MAKES BALIVEPRO DIFFERENT?
BalivePro is the world's first Natural Antimicrobial utilizing Gras Ingredients approved by the FDA and a Natural activator to prevent any Bacterias,Germs and Viruses. Unlike gels, liquids , strips, light systems and expensive and painful "professional"treatments, BalivePro can be used anytime and anywhere. You simply Spray, Swish, Protect! . It's that simple!
HOW DO I RETURN MY ORDER?
Please email us at info@balivepro.com and we will initiate your return in a timely manner.
I COULDN'T FIND THE ANSWER I WAS LOOKING FOR. WHAT CAN I DO NOW?
Please email us at info@balivepro.com with your question and we'll reply within one business day.
IS IT SAFE TO SWALLOW THE ACTIVE SOLUTION?
It is perfectly safe to swallow the active solution. BalivePro has only Gras Ingredients (generally recognized as safe by the FDA).
DOES BALIVEPRO CAUSE STING OR OTHER REACTION?
Our natural antimicrobial ready solution was specially formulated and will not sting but mainly will have no other secondary reaction.
HOW OFTEN SHOULD I USE BALIVEPRO AND FOR HOW LONG?
We recommend using BalivePro as often as necessary . 3 to 5 sprays may be ideal each half hour on your very first time so you get the feeling . Once your desired confidence is achieved, you will loved to spray constantly remembering that prevention is better than curing! (BalivePro is NOT an medicine).
HOW LONG DO I HAVE TO WAIT BEFORE EATING?
BalivePro is not a treatment, there is no need to wait before eating or drinking your favorite beverage. (Balivepro is not a medicine).
IS IT SAFE FOR CHILDREN?
BalivePro is SAFE for children and anyone who wants to.
HOW LONG DOES SHIPPING TAKE?
Depending on the shipping carrier, 3-5 days; International can take 7-15 days, not including any time held by customs. On amazon prime members will get it next day !
HOW WILL I RECEIVE MY REFUND?
Funds will be returned to your credit card within 20 business days.
B ALIVE PRO CERTIFICATIONS
SUBSCRIBE TO OUR NEWSLETTER
And be informed of our weekly promotions.